M10 Crank Pulley with Trigger  Sold Out
Wheel and Sensor Mount Combo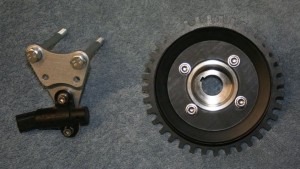 Ford EDIS Sensor not included
Pulley and Trigger Wheel Description
M10 Crank Pulley, 36:1 Trigger Wheel, 4.5" diameter alternator/water pump pulley. Complete unit, ready to go conversion, for Megasquirt EFI or Crank fired EDIS ignition.
303 Stainless steel hub for added strength and longer main seal life (aluminum will wear much faster). Slightly smaller (stock is 4.8") split steel (long life) pulley for slight reduction in the speed of the water pump and alternator (freeing up horse power by reducing parasitic drag).
Both the trigger wheel and pulley are bolted to the hub. This allowes changing to a different triggering method or different pulley size if desired.   (A new Woodruff Key also supplied, just in case its needed.)
Trigger wheel clocked for use with our EDIS sensor mount (part #EdTrg)
Sensor Mount Description
Quickly and easily mount your Ford EDIS trigger sensor. Includes 2 extra long 8mm water pump bolts as well as the 5mm screws to mount the sensor to the plate. The whole deal, no need to drill, file, or hammer anything. Make gap adjustments by loosening the water pump bolts (the pump housing has ample slop to allow you to set a suggested .5mm gap)
MegaSquirt Ford EDIS information
Crank Timing Wheel and Sensor Reference Guide for non-EFI application (MegaJolt)
Crank Pulley with Trigger Wheel and Sensor Mount Combo (P/N: CTP01)